Don't let the pretty pink color of rose quartz fool you: there's more to rose quartz than its romantic coloring. While its light blush hue is soft and beautiful, its healing properties and powers are potent and strong. Are you wondering about the depth of rose quartz meaning? Also called the hyaline quartz, this soft pink healing crystal represents unconditional love and compassion.
Rose quartz's translucent vigor and hexagonal cut are just as dreamy as your love life can be if you keep it nearby! The rose quartz crystal can summon favorable shifts in your platonic and family relationships, too.
Curious about what rose quartz is all about? We're sharing all the lovely details about rose quartz benefits, properties, and how to use this love-filled crystal to open your heart to greater love in all forms!
Rose Quartz Crystal Meaning and Benefits
Rose quartz is essentially the Cupid of the crystal world. The stone is all about manifesting loving and harmonious relationships, whether with your crush, your best friend, or yourself. In essence, rose quartz meaning embodies all types of love, and here's how you can use it to open your heart and welcome more love into your life.
Rose Quartz Benefits
We get it. Rose quartz represents universal love, but what are the benefits of this pink crystal?
Rose quartz is attached to both the heart and throat chakras. While often regarded in a romantic sense, the crystal extends to all kinds of love.
Rose quartz can help you mend a relationship with an estranged family member or develop a bond beyond the surface level with a new friend. You'll even stimulate a more profound love for yourself!
As the "Heart Stone," rose quartz can heal pain or trauma from past emotional wounds. The lovely stone works to bring more unconditional, divine love into your everyday life. We'll further break down all of the rose quartz healing properties later in this article (trust us, you'll want to keep reading!).
But for now, it's comforting to know that rose quartz provides physical and metaphysical healing benefits. Healing with rose quartz can improve circulation while helping you feel more aligned with your highest potential. When you reach this peak emotional status, you'll connect better with yourself and others.
Rose Quartz Meaning
You already know that rose quartz meaning embodies love and compassion, but why?
Rose quartz has been found, harvested, and used all over the world by civilizations for centuries. Rose quartz jewelry dating back to 7,000 BC has surfaced in ancient Mesopotamia.
Ancient people believed in rose quartz's magical powers – and we still do today!
For example, Egyptian, Roman, and Greek societies used rose quartz crystals as sacred talismans to signify ownership and prevent aging. Over time, cultures worldwide used the stunning stone in a myriad of ways. Eventually, we discovered just how powerful rose quartz is in the arena of love, connection, and harmony.
So, what exactly are the many healing properties of rose quartz crystals? And what does rose quartz attract in your daily life?
Keep on reading for a full explanation of this wondrous stone's powerful effects on the body, mind, and of course, heart!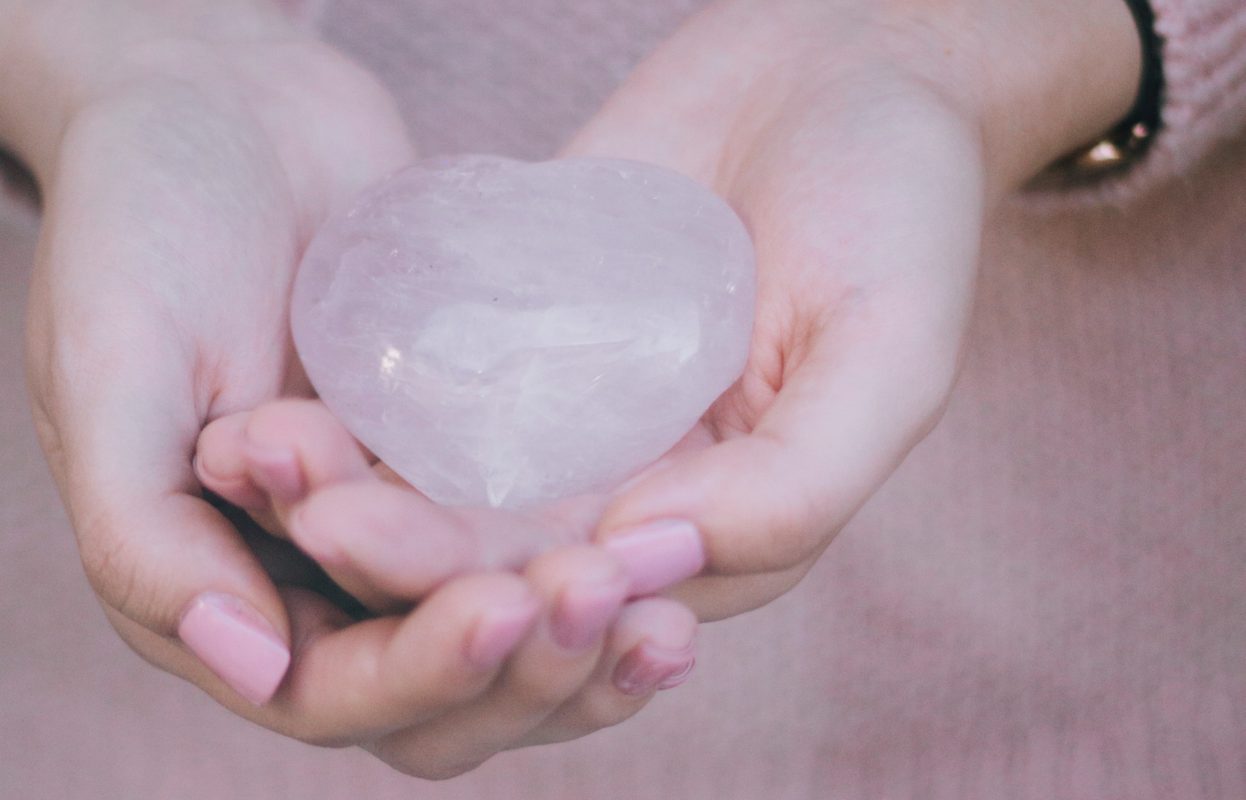 Rose Quartz Healing Properties
Love is in the air! And you're sure to love the healing properties of rose quartz if you keep it nearby in your everyday life.
Looking to mend a broken heart? Interested in becoming closer to the people and things you care about most? Then let's check out the spectrum of rose quartz healing benefits below!
Emotional Healing Properties
Love, abundance, joyful energy – what more could you ask for? Of all the healing crystals and minerals from the Earth's crust, rose quartz stands out as one of the best healing crystals for romance.
Why is rose quartz so powerful? Well, it's directly associated with the heart chakra, which is the center of compassion, love, empathy, and forgiveness. So, people often use it to help heal and bring acceptance to deep emotional wounds. Are you suffering from a romantic heartbreak or working through deep childhood traumas? Keep rose quartz close by as you process and heal to soften your heart and release the pain.
As you persevere through emotional adversity, how else can rose quartz help you?
Enter: the fun part of rose quartz crystals!
Is there a special someone you have your eye on but aren't sure how to approach? Ready to move on from a breakup and put yourself out there again?
Then reach for a stunning rose quartz cluster to warm up your life! The beautiful blush crystal helps to ignite romance in those looking for love.
Not only does rose quartz encourage romantic connections, but it fosters a greater sense of compassion for yourself and others. And that might be the most important rose quartz emotional benefit of all! By fostering empathy, rose quartz offers you a softer viewpoint of those you might not understand or relate to.
But the crystal can do more than spice up your love life and tug at your heartstrings; let's look at rose quartz physical healing properties.
Physical Healing Properties
In addition to comforting emotional woes, healing crystals can promote your overall physical wellness.
Attached to the heart chakra, rose quartz has physical healing benefits for the heart. In fact, rose quartz has the potential to thwart heart issues like sudden heart attacks and thrombosis. How? The stone gently improves circulation in your body to ensure that blood is pumping steadily to the heart.
Are you a mother or hoping to become one? Rose quartz might be just what you need to achieve balance and harmony in your life.
Rose quartz can help you conceive, thanks to its powerful and protective feminine energy. Once you've successfully conceived, consider keeping a rose quartz crystal nearby throughout your pregnancy. Soon enough, you'll be welcoming your newborn baby into a world of love and compassion!
Spiritual Healing Properties
Physical, emotional, and now spiritual! Get in touch with the universe's loving energy with a bit of help from rose quartz crystals.
Are you dealing with negative energy or self-talk? Do you sometimes just feel a little off and funky? You're not alone. But rose quartz can help by bringing you back to your heart's divine alignment.
Are you sensing a theme here? Yes, the heart comes into play yet again. Rose quartz's alluring charm makes you feel more connected, compassionate and enthralled with all the joy that the universe can offer. Rose quartz will bring you heart-warming peace as it uplifts your connection to feminine divinity and powerful goddess energy.
Rose Quartz Crystal Properties
From its healing powers to its physical form, let's talk about rose quartz crystal properties!
What makes rose quartz so powerful? Well, it all comes down to the earthly nutrients and minerals that make up the precious love stone.
Rose quartz comes in a variety of soft pink shades that resemble Japanese cherry blossoms in the spring. Rose quartz saturation can range from baby pink to the romantic hue of a dozen fresh pink roses.
The stone's translucency can differ among crystals, too. You'll often find crystals that are either foggy, clear as glass, or even a bit smoky. Rose quartz's stunning rosy hue is, of course, where it gets its coined "rose" name.
With its loving and grounding energy, rose quartz meaning vibrates at the divine number seven, summoning peace, compassion, and comfort when held close to the heart.
How to Use Rose Quartz
By now, you've learned all about rose quartz meaning and healing properties. But how can you make sure you're reaping all of this blushing stone's excellent benefits?
There are a variety of ways to incorporate rose quartz crystals into your life. Follow these tips to attract the loving energy of the stone and universe.
Wear Rose Quartz Jewelry
Jewelry is one popular way to wear rose quartz and benefit from its healing properties. But how should you wear it? You'll often find rose quartz crafted into beaded bracelets, necklaces, or charms to hang on a chain or rope.
Who should wear rose quartz? Anyone craving more love, compassion, and connection in their life should look into wearing rose quartz jewelry.
If you're not one for accessories, not to worry!
Place Rose Quartz Crystals in Your Home
You can place rose quartz anywhere around your home to add a calming essence to your decor and ambiance. We suggest putting rose quartz crystals in your workspace to help you avoid stress and harmful toxins from gadgets. But don't stop there: add these beautiful crystals anywhere you feel it; they'll add a positive presence to your daily routine.
Meditate with Rose Quartz
Another great way to use rose quartz is by holding it or placing it on your body while you meditate. While meditating, where do you put rose quartz on your body? On your heart, of course! Place the stone directly over your heart to activate and open your heart chakra. If you want to take your manifestations a step further, place the stone under your pillow at night while you sleep for lovely, blissful slumber.
Ready to Attract More Love Into Your Life?
Now that you know all about rose quartz meaning, properties, and uses, it's time to let the loving energy wash over you and your heart. Whether you're a beginner at healing crystals or you want to take your practice up a notch, we've got all the healing crystals you'll need to attract more love into your life!
Follow my blog with Bloglovin