If you'd rather be curled up in a plush blanket with comfort food watching DIY videos instead of bouncing about from place to place, you might be a Taurus. Possibly the most chill sign of the zodiac, Taurus folks know how to work hard and play hard.
However, if you're a Taurus, you know life isn't all easy-breezy. So, how does being a Taurus affect your life? More importantly, what can help you handle your Taurean struggles? Our recommendation: healing crystals!
Which crystals are for Taurus? We'll discuss our top picks today:
Best Crystals for Taurus
Amethyst
Malachite
Rose Quartz
Green Aventurine
Opal
We'll also cover the healing powers of your traditional birthstones:
Taurus Birthstone Crystals
Diamond
White Sapphire
Emerald
Agate
We don't want to keep The Bull waiting, so let's hop into our Taurus gemstones' meanings!
The 5 Best Zodiac Crystals for Taurus
Taurus sign folks are known as patient, warm-hearted, and purposeful. You crave stability, so you work hard to earn your time off. When that vacation comes, it's meticulously planned for maximum relaxation.
However, your rigidity and comfort with routine mean you don't love change. You may be inflexible with people who think differently, and your reliance on what you know means you can be close-minded to opportunities that could enrich your life.
Taurus healing crystals offer both what you crave—calm, reassurance, security—and what you need—comfort with personal growth, openness to intuition, and self-love.
Which is the lucky stone for Taurus? You can decide your favorite from our selections:
Amethyst
Malachite
Rose Quartz
Green Aventurine
Opal
Kicking off our Taurus stones and crystals list, what does amethyst do for Taurus?
Amethyst
Amethyst healing stones have calming and protective properties dating back centuries. As a Taurus healing stone, amethyst lowers stress and prevents negative energies from reaching you. Plus, amethyst healing properties are said to prevent distraction and bring deeper understanding, so you can see the answer with clarity and stay focused to get stuff done.
When break-time comes, amethyst crystals help you relax and reconnect with your mystical side. Focused on spiritual growth, amethysts encourage overly pragmatic Tauruses to loosen up and explore the power of their intuition.
How to Use Amethyst for Taurus: Keep an amethyst healing crystal on your desk for focus or by your bed for expanding your mind as you sleep.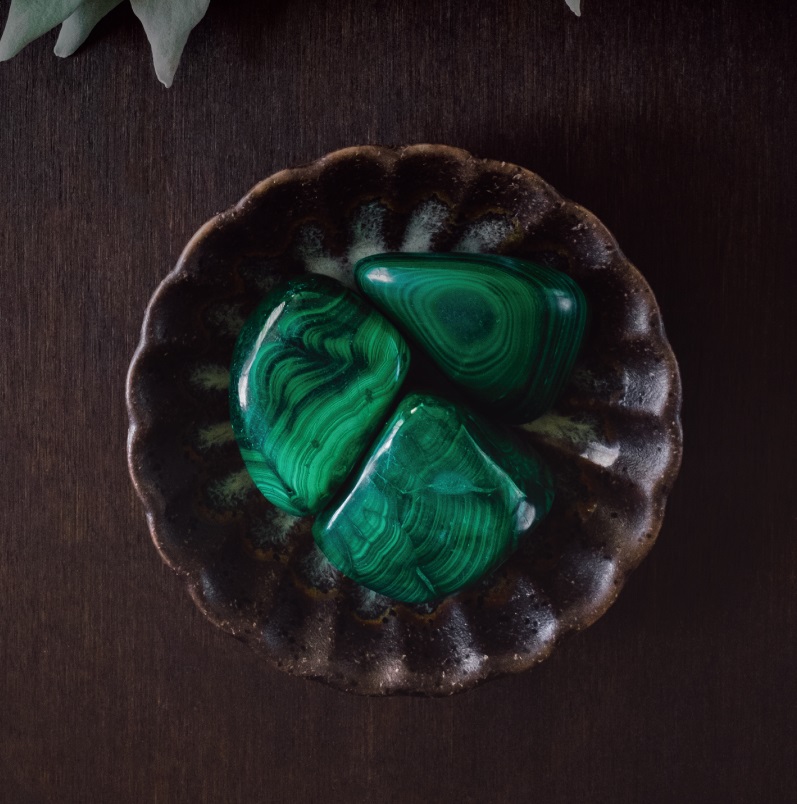 Malachite
One of the best Taurus moon crystals is swirling green malachite. Nicknamed the "Stone of Transformation," malachite healing properties help Tauruses cope during change and support self-improvement.
Taurus moons crave the comfort of consistency, but to quote JFK, "Change is the law of life." Malachite healing stones won't slap change in your face, but instead ease you into transitions with safety and support. 
Malachite crystal benefits also help you understand your emotions and release the negative thoughts of the past, allowing you to move forward with acceptance.
How to Use Malachite for Taurus: Meditate on tough emotions with malachite, or keep one close during big life transitions like moving or starting a new job.
Rose Quartz
Ruled by Venus, Taurus can effortlessly tap into the loving energy of the planet's star stone: rose quartz! The rose quartz healing stone is known as the "Stone of Universal Love," helping you give and receive love with openness.
As a Taurus, you're dedicated to your loved ones and work hard to show that. But you deserve that same level of loyal love! Rose quartz benefits strengthen the bonds you already have with others, allowing you to focus on yourself as you soak in the crystal's loving, encouraging energies.
How to Use Rose Quartz for Taurus: Wear a rose quartz necklace or earrings to keep its reassuring vibes close to your heart.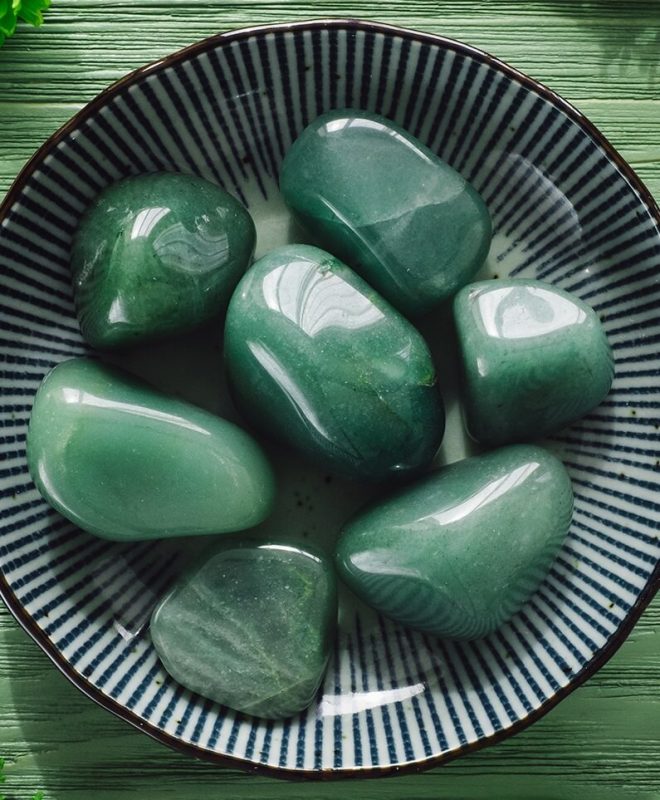 Green Aventurine
Tauruses are born in the heart of spring, and green aventurine symbolizes the season's growth, joy, and new beginnings. Green aventurine properties bring harmony, comfort, and luck in all areas.
We know feeling secure is your top priority, and this "Stone of Prosperity" attracts success and abundance. Plus, green aventurine crystal benefits help you release the past, clearing out unhealthy habits to make room for personal growth. Tauruses don't love change, but aventurine's soothing energies will make the process positive and fulfilling.
How to Use Green Aventurine for Taurus: Carry a green aventurine healing crystal to attract luck and prosperity on the go.
Opal
Opal is among the top crystals for Taurus rising. One underrated quality of Taurus rising is your natural gift for creative arts. Opal healing properties can help your talent shine, increasing creative confidence and encouraging you to discover your potential!
Opals are also lucky, said to have come from heaven through lightning bolts. That electric energy can open your mind to inspiration, joy, and your intuition.
How to Use Opal for Taurus: Use opal crystal benefits for inspiration by wearing the stone as you create art or keeping it nearby.
You know what crystals are good for Taurus rising, moon, and sun signs, so what's next? Using them, of course!
How to Use Taurus Crystals for Healing
Once you know what crystals a Taurus should use, it's time to learn how to use healing crystals. We've curated some methods for you to try!
Wear Crystal Jewelry
Wearing Taurus crystal jewelry can get you in touch (figuratively and literally) with your crystal's healing energies. A rose quartz Taurus crystal necklace, for instance, can send vibrations of self-love right to your heart.
Likewise, a malachite or opal Taurus crystal bracelet taps into your pulse, emitting empowering vibrations for self-confidence. You can also choose the crystal jewelry based on its nearest chakra! 
Chakra Healing
A more traditional crystal healing method is chakra healing. By targeting a specific energy center, or "chakra," you can use your Taurus crystals as chakra stones to clear out issues through chakra meditation.
Here are each Taurus crystal's corresponding chakra(s):
Amethyst: Third Eye & Crown Chakra
Malachite: Solar Plexus & Heart Chakra
Rose Quartz: Heart Chakra
Green Aventurine: Heart Chakra
Opal: Heart, Third Eye & Crown Chakra
Set Intentions with Your Crystals
Setting an intention for the day may already be part of your morning routine, and intention setting with crystals can add extra strength to your goals!
The process starts with choosing your intention and finding the best crystal for the job. For example, if you'd like to be more open to change today, you can set that intention with green aventurine.
Another delightful option is crystal candles! Nothing beats a good scent, especially for sensory Taurus. A rose quartz love spell candle can improve relationships or invite a new one in! For overcoming hardship, try an amethyst grief candle.
Some practical-minded Taureans may not think, "What stone is good for Taurus?" but rather, "Why are stones good for Taurus?" We'll answer that!
Why Use Crystals for Taurus?
The stars and planets in astrology relate to your destiny—the traits, roles, and needs you were born with, plus your potential to harness them. Crystals, grown by Mother Earth, are the mystical tools to help you reach that potential.
Understanding zodiac crystals requires first understanding your zodiac chart. For beginners, it's as simple as understanding your "Big Three" signs: sun, moon, and rising.
Your sun sign represents your general personality and path in life. You probably know this one already, as it's only based on your day-and-month birthday.
Your moon sign goes deeper, governing your emotions, instincts, and inner world. This sign changes more frequently, so you'll need your full birth date and possibly birth time.
Lastly, your rising (or ascendant) sign represents the first impression you give others. Based on the sign on the horizon when you were born, you'll need your precise birth time and location along with your birthday to calculate this sign.
That said, what are the traits of a Taurus sun, moon, or rising? Comprehending a Taurus meaning in your chart means first looking at its place in the zodiac calendar.
Taurus in the Zodiac Calendar
From April 20 to May 20, Taurus dates are in the swing of springtime. This period also holds Earth Day and Mother's Day, emblematic of Taurus's element and focus on the home as a comforting, nurturing place.
Check out the other Taurus zodiac groupings below:
Element: Earth | Practical, sensory, diligent
Modality: Fixed | Persistent, headstrong, purposeful
House: 2nd House | House of self-worth, money, and resources
Planet Ruler: Venus (traditional and modern)
Venus is the planet of love, beauty, and value. Ruling both Taurus and Libra, Venus splits her expression between the two. Libra expresses the beauty- and relationship-oriented side, while Taurus expresses the sensual, value-oriented side.
Expanding on that, Taurus rules the second house, often called the "house of value." This house governs how we attract and spend our resources, be it money, time, or things needed for survival like food. Maybe that's why Taurus has gained a bit of a foodie reputation!
Focusing on the individual now, what type of person is Taurus?
Taurus Traits: Sun, Moon, and Rising
Like the Taurus animal, the bull, a sun in Taurus personality is typically strong but easy-going, preferring time in nature with their pack. You make a natural leader, as you're dependable, hard-working, and radiate a gentle regality that gains respect.
What is a Taurus's weakness?
Taurus is naturally feminine, being an earth sign ruled by Venus—but bulls represent masculine, domineering energy. As fixed signs, Taurus can tap into a bull-headed stubbornness and resistance to change. You may get territorial and jealous if you let your status go to your head.
What does a moon in Taurus mean?
Taurus moon signs are usually down-to-earth, sincere, and unwavering friends. They may be more reactive than proactive than a Taurus sun, but that's because they usually have high standards for change. If it's happening, they're going to make it happen the way they want.
At their core, Taurus moons crave comfort and stability, leaning on experiences they've tried before and methods they can depend on rather than stepping into the unknown.
What does being a Taurus rising mean?
People usually perceive folks with a Taurus rising as kind, adept, and laid-back. You value community, collaboration, and creativity, so any group crafting event (like making signs for an event) is your jam.
As a Taurus rising, you also love the sensual aspects of life, adorning yourself and your space with charming textures, colors, and scents.
If you're a Taurus moon and rising, you may want to adorn yourself with something more traditional… like your monthly birthstone!
Taurus Month Birthstone Crystals
A Taurus born in April has different traditional birthstones than Taureans with May birthdays. Regardless, with each Taurus birthstone, April or May babies are granted another gem for honoring your sign and harnessing more healing powers!
First, what are the two birthstones for Taurus in April?
Diamond: The strongest gem on Earth, glittering white diamonds represent willpower, bravery, and longevity.
White Sapphire: A rare colorless form of the corundum mineral, these crystals enhance intuition, empathy, and relationship harmony.
Now let's examine the healing May Taurus birthstones:
Emerald: The stunning green beryl variety, an emerald stone for Taurus that offers wisdom, tranquility, and prosperity.
Agate: A transparent, banded chalcedony variety, agate Taurus birthstones emit calming, patient, and positive vibrations.
Ready to feel empowered to reach your fullest potential? Curate your own Taurus crystal set today!
Embrace Your Gifts with Taurus Crystals!
Known as the most laid-back zodiac sign, Tauruses would rather be in the serenity of nature than anywhere else. Taurus crystals can bring nature to you, along with a wealth of benefits to help you harness your talents, step out of your comfort zone, and embrace the transformative power of change.
Remember what Taurus queen Lizzo sang: "Woo girl, need to kick off your shoes, gotta take a deep breath, time to focus on you."
Discover Taurus crystals and more in our crystal shop!
BROWSE ALL CRYSTALS